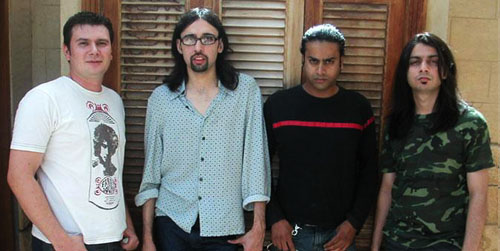 By: Karachi Underground Wesbite
Published: Monday 27th September, 2004
This was Mizraab's first interview to any website. Karachi Underground was the first proper website launched by a couple of Underground Music Lovers in the early 2000.
Name?
Faraz Anwar
Khalid Mustafa
Jamal Mustafa (Jamie)
Irfan Ahmed (Charlie)

Date of Birth?
Faraz 15th July
Khalid 26th Apr
Irfan 4th Nov
Jamie 20th Jun

Hobbies?
Faraz: Only interest in life is music
Khalid: Cricket
Irfan: Likes watching National Geographic. Specially anything about marine life and sharks
Jamie: Reading, Watching Cricket, Motor Sports, F1

Location?
Jamie: Lahore
The rest live in Karachi

Education?
Faraz: B Com
Khalid: BA
Jamie: BA
Irfan: B Com

Music Education?
None

Music Equipment?
Faraz: Jackson DKMG, Behringer V amp, Peavey Classic 30 amp
Jamie: Jackson Performer PS4, Behringer V amp, Peavey 112 Bandit Transtube amp

Other Occupations?
Jamie: Real estate developer
The rest are full time musicians

Sources of inspiration (while creating music)?
All the music we listen to works as inspiration. e.g. Rush, Jimi Hendrix, Jaco Pastorius… the list is endless. But we also get inspired by issues of life. Its a need to express one self. As long as that need to express is alive inspiration is never far away.

What drew you guys towards music?
Music is in you. If you have it nothing draws you towards it, infact its the other way round. You will here stories of guys going Through all sorts of trouble just play music. If you have it in you, you will always be close to music.

Tell us something about your upcoming album?
Its a heavy progressive rock album. We have experimented with a huge guitar sound. If you hear the songs guitars are really loud and the vocals just about cut through. In Pakistan most of the people listen to vocals and not the music, we want to change that. Its a concept album about a person who feels he is a misfit in society. The songs revolve around different aspects of his life in this context. We have all suffered at the hands of oppressive dictatorships such as that of Gen Zia. You will find a lot of artistic minded people in this country who feel they don't belong. Our society revolves around Doctors and Engineers. They are important but a change in society (which our country is in desperate need off) can only come from artists. We have forsaken artists. The album is about the pain and suffering of one such person who is not allowed to express him self freely.

Music Recognition or achievements?
Faraz: He is the only musician in Pakistan who has released an instrumental progressive rock album in America. Even though Faraz has not had the chance to tour over there his album has done fairly well. It has also generated really good reviews. He was awarded the "out standing musical achievement" scholarship by Berkley School of Music Boston. Apart from that he has worked with almost every artist in Pakistan at one time or another.
Khalid: He is an established session musician in Karachi. He has worked with Najam Sheraz as a session player.
Irfan: He has played with Sajad Ali, Hadiqa and Strings as a session drumer.
Jamie: Has worked with Mekaal Hasan at DFS Lahore. Worked on Faraz Anwar's "Abstract Point of View".

Type of Music you like?
Rock Rock Rock and a bit of Fusion/Jazz and classical music like Bach.

Type of Music you hate?
Techno, Hip hop and cheesy pop.

What do you think about other Pakistani Artists?
There is a lot of talent and creativty in Pakistan. What we lack is good production skills.

How would you like to be remembered?
As some one who did things differently and set bench mark for others to follow.

Favorite musicians (Pakistani)?
No Comments.

Favorite Song (Pakistani)?
No Comments.

Final Comments?
Happy listening to every one.

Thankyou very much Mizraab for the Interview.
Comments