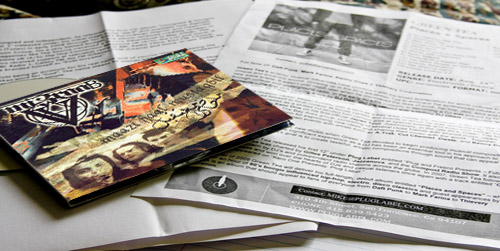 Mizraab: Mazi Haal Mutaqbil
By: Christopher Ruel
Published: Monday August 2nd, 2004
Out of the nebulous depths of the brilliant mind of Pakastani guitarist / composer, Faraz Anwar, comes a fresh, new, unique sound and conceptual vision on his 2004 collaboration with Irfan Ahmed, Jamal Mustafa, and Khalid Mustafa on the Sadaf Stereo release, Mazi Haal Mutaqbil. Anwar and company (a.k.a Mizraab) diverge from the instrumental format of his previous release, Abstract Point Of View, and instead embark in a new direction that aims to redefine the progressive vocal rock format. The album is arranged in a manner that starts slowly by establishing an atmosphere of despondant conflict, tension, turmoil, and desparation that builds with each successive track into the unrestrained, emotional tracks that explode with the climactic centerpiece tracks, "Mutazir" and "Kuch Hai". First time listeners should be forewarned to be patient to allow the intricate plot to unfold, as Mizraab does not reveal the true depth of this album in the first several tracksm, but instead entices the listener to endure for the promised salvation of the climax.
Continue reading 'Chris Ruel: Mizraab – Mazi Haal Mustaqbil (Album Review)'