Mizraab, Mazi Haal Mustaqbil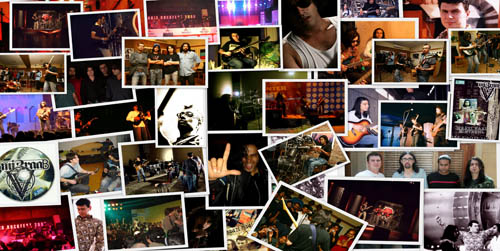 "My music is not about two idiots meeting in a garden singing a love song. Its about the issues and problems in real life common to everyone."
With this motto in mind, the basis of the first genuine Pakistani Urdu metal band – Mizraab – was laid during the late last century. The band was named by Faraz Anwar's father, the word mizraab being the Persian for a piece of metal worn on the finger while playing sitar. With himself on vocals, Khalid Khan on bass and Akhtar Qayyum on percussions, the guitar maestro Faraz Anwar set out to give shape to his brainchild. Ideas were conceived, lyrics phrased and melodies composed. The trio marched on to produce one of the most unorthodox albums of Pakistani music history – titled "Panchi". The album involved some extremely hard-hitting concepts accompanied by cutting-edge guitars, rhythmic and heavy bass and a very different and remarkable percussive element. The course for a much stronger future was set…
Initially, the 9-track album was not meant for release and Faraz didn't want it to be more than an experiment. "The album was good but I felt strongly about re-doing it. Not revamping but redoing it," he says. However, Akhtar Qayyum went on to strike a record deal with Sound Master and the album was released in 1999. "I had no idea that Akhtar would go out and release it, which he did. It did well but I wasn't expecting the album to hit the market," says Faraz. Relations got strained and Akhtar left due to musical differences. The band vanished from the scene for a few years of silent evolution…
Faraz then, keeping the name Mizraab, began his solo project. In the summer of 1999 he went to Lahore to record at Digital Fidelity Studios, where his work was well received. His work was so good that it shocked everyone at the studio because they felt the material was exceptional. The album, titled "An Abstract Point of View" was released internationally in 2000 by Gnarly Geezer Records – a company owned by legendary Jazz guitarist Alan Holdsworth. The record label also suited Faraz in the way that he himself is known to be a self-proclaimed disciple of Mr. Holdsworth. The album created waves in the international music scene and attracted some extraordinary reviews from music magazines all over the world including places as far as the Netherlands and Japan. "You could describe Abstract Point of View as complex symphonic jazz-rock-prog-metal, which even can be called epic in two cases," writes Dutch magazine iO pages*. Many others rated Faraz as an amazing discovery from this part of the world.
Having added another feather in his hat, Faraz resurrected Mizraab. He had been gathering new ideas for Mizraab all along and finally it was time to put them into action. This time, there was a new line up and a new feel to this sole progressive metal band of Pakistan. Bassist Khalid Khan was re-called into his position and Irfan Ahmed (Charlie) appointed as the in charge for the battering machine. "My friendship with Khalid and Irfan goes way back. I used to play guitars in a band called Live Sketches. Immu (Fuzon) was also involved in that project and Khalid, believe it or not, was the singer at the time! It was around the year 1995 that Khalid decided to switch to bass and he picked up from there. Irfan and I go back like 11 years. The entire time he's been with me and we've been working together on one project or another," states Faraz. Both Khalid and Irfan are renowned session musicians of Pakistani music scene and have worked with acts such as Strings, Hadiqa Kiyani, Najam Sheraz and Vital Signs.
Once again, ideas were conceived, lyrics phrased and melodies composed for the new album. Most of the concepts were by Faraz himself whereas versatile poet Adnan Ahmed penned the lyrics except Panchi and Mayusee by Akhtar Qayyum. Faraz did the vocal, guitars and drum sequencing duties while Khalid chipped in with some amazing bass work. Reflective, dark, melancholic, heavy and groovy stuff was what they had in store for everyone this time. Once completed, Faraz felt the need for a rhythm guitarist. He called his old assistant from DFS in Lahore, Jamal Mustafa, to fill in the gap. Jamie was all too glad to be a part of Mizraab and joined in at once without hesitation. "Faraz called me to join the band. I had not even heard the material at that time but I knew that if it had to do with Faraz, it had to be extraordinary. Thus, I joined without giving it a second thought," he says.
The album, titled Mazi Haal Mustaqbil, was to be unique in three ways. Firstly, it was the first progressive metal album in Pakistan's music history and secondly it was also to be the first ever concept album as well to come out of this industry. Lastly, it was to become the worst ever victim of commercialism in Pakistani music industry…
The album was completed around mid 2002 and was all set for release. The band recorded two videos, Insaan and Meri Tarah, which were to go on air along with the release. Unprecedented problems, however, were to occur which amply proved the respect for talent and real musicianship in the local music scene.
Firstly, the band could not strike a record deal, no one being ready to release something that was very alien to general Pakistani audience. Mazi Haal Mustaqbil was again a bit too ahead of its time. Leaving aside the record labels, the band also faced opposition from the so-called music channels, who claim to be guides for new talent into the mainstream. The videos were seldom aired in the beginning, before the only local music channel banned the band altogether for reasons better known to themselves.
Mizraab, however was not to give up. The band marched on to its own beat and recorded a third video, Izhaar, for the Cricket World Cup 2003. Both, the song Izhaar and its video were made in a very short period of time and yet they held a class of their own. The video made rounds on the Dubai based sports channel Ten Sports. The journey was to continue…
Meanwhile, problems arose regarding the bassist of the band. Khalid Khan was playing bass with two of the emerging bands of Pakistan – Mizraab and Aaroh. Aaroh had already broken into the mainstream and Mizraab was not going to remain underground much longer. Realising that it was difficult for him to continue with both these demanding acts, the band decided that Khalid should limit himself to one of these. So, Khalid ended up parting and becoming a fulltime member of Aaroh. The gap, thus, created was filled in by Faraz Ahmed. Faraz (Jr) had worked at different studios in Karachi for quite some time and had always aspired to work with Faraz Anwar. The new bassist was also an ex-student of Faraz Anwar.
Faraz Anwar was also associated and was also a vital part of Pakistan's first Death Metal band or "project" to be more precise, known as "Dusk" and includes the very famous musician and director Baber sheikh. Dusk released three albums internationally and become the 1st Pakistani Band to release an album outside Pakistan.
In March 2004, the band, fronted by Faraz, released their first official anthology, Mazi Haal Mustaqbil to much critical acclaim. The band introduced two new members Jamal Mustafa a.k.a Jamie on Rhytm Guitars and Faraz Arshad on Bass. Mazi Haal Mustaqbil is credited to be the first proper Metal Urdu album released in Pakistan which had shades of everything from industrial metal, doom, and groove so delicately interlaced and beautifully crafted. To date, Mizraab have released eight music videos, including the popular Panchi, and Kitni Sadiyaan which received airtime on MTV Asia.
Mizraab came back into the lime light with the video for 'Ujalon Main' in December 2006, which showcased the new band members as well as the change in genre for the new album. It received a lot of positive feedback from fans and critics alike. Mizraab's second album was completed in late 2006-2007 but due to the dire state of the music industry in Pakistan, no deal could be reached and the album was shelved.